IR CH/ AMST WIN/ UK CH Tokosha Issumatar ShCM
Rula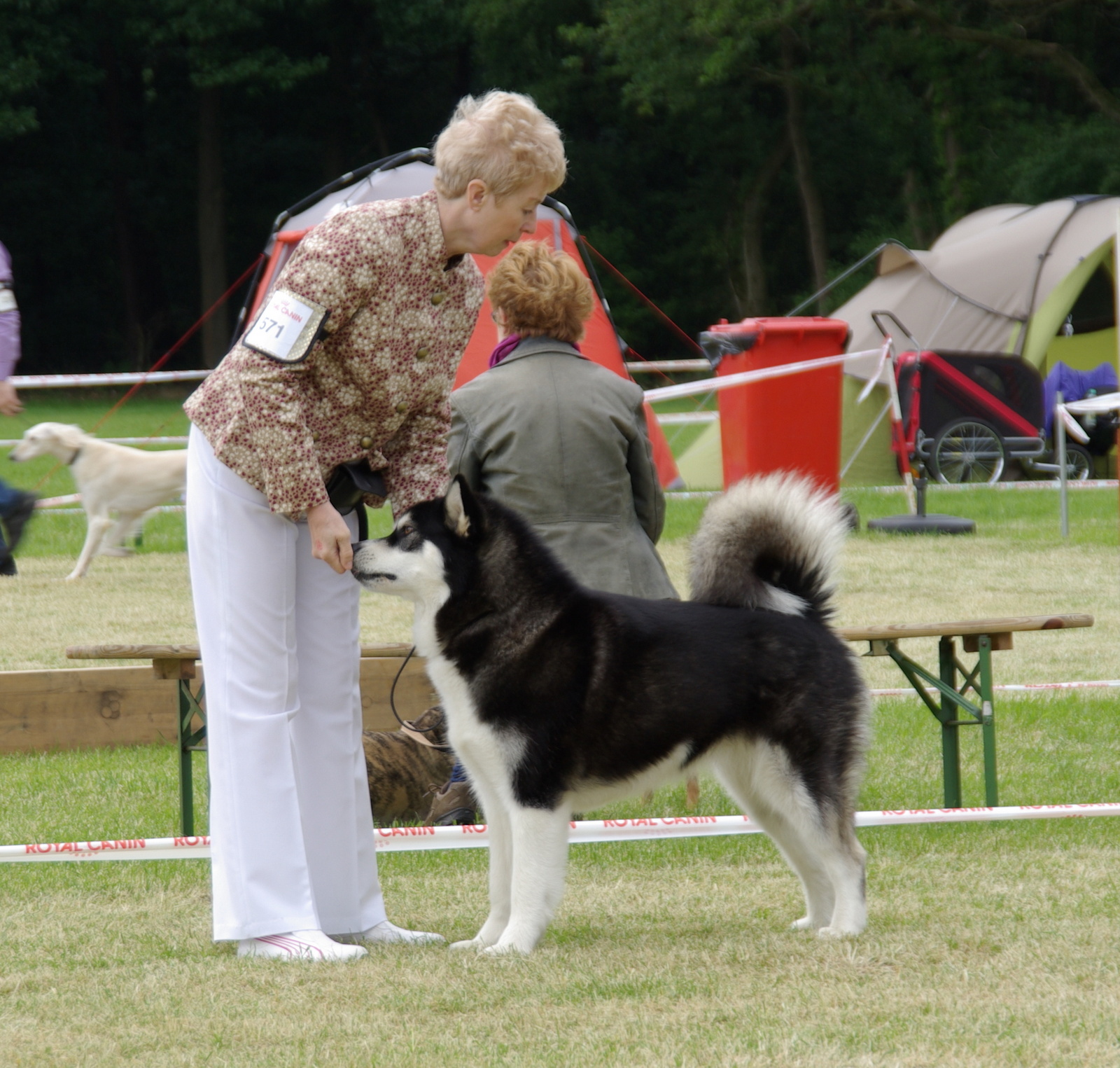 Open Shows – Best in Show x 2, Res Best in Show x 1, Best in Breed x 8, Group placings x 4
Championship Shows - Best of breed x 1, Best Puppy in Breed x 1, Best Puppy Bitch x 3,
Adult level : 3 x CC's, 3 x Reserve CC's , Best Bitch x 5, Res Best Bitch x 3
International Shows EU - Green Stars/CAC's x 7, CACIB x 6, Res CACIB x 6, Res Green Stars x 3, Best of Sex x 8, Res Best of Sex x 7, Res Best of Breed x 13
MOYA Results – 2009 4th Top Puppy & 6th Top Bitch – 2010 Top Bitch
Crufts - 2009 Sp Jr 1st & SpYr 1st
Gaining her Stud Book Number and 'Lifetime qualification' for Crufts at 17 months of age
Call name: Rula
DOB: 2nd December 2008
Sire: AM CH Sno Klassic Ticket To Ride To Hyteton (Imp USA)
Dam: Blaidderia Born To Be Wild ShCM
Breeders: Mr & Mrs Roper (Tokosha)
Colour: Seal & White
Hip Score: Hips 6/4 =total 10 (1/7/10)
Eye Test: Unaffected (03/04/12)
Rula was second born in the litter we fell in love with her immediately she was born. She was one of the natural female leaders in the puppy pack. Curious alert and that non-stop energy described her well. She really enjoyed winding Toko up like a spring and letting him loose!!
Photo by Sammy Taylor Photography
A striking well balanced pretty black and white girl. Very gentle in nature and loved to kiss you and often took you at a surprise moment. She's was natural worker and loves to speed along when pulling the scooter or stride out when running alongside my bike. Again like her brother a later developer which characteristically is in the Seacourt lines.
Rula had been doing well in the show ring more so at an older age than Toko. As such she achieved loads of accolades particularly in Europe. Just getting ready to hit the Veteran classes (8 + yrs old) in Europe after Christmas 2016.
Rula developed a mass on her spleen found just before Christmas. Following an operation, she was with us for a further 4 months, but due to the nature of her cancer she quietly passed over the bridge home here in my arms.
I don't think we will ever get over the loss of Rula she was such a character around the house with all her talking. Sleep tight Rules until we can met and play again.