IR CH/ UK CH Tokosha Atka ShCM JW (TOKO)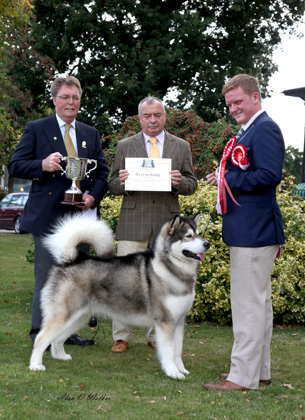 Open Shows – Best Puppy in Show x 4, Res BPIS x 1, Best Puppy in Breed x 15, Best in Breed x 22, Gp placings x 25
Championship Shows – Best Puppy in Breed x 6, Best Puppy Dog x 1
Alaskan Malamute Championship Show – 1 x Best Puppy in Show, 1 x Best Junior in Show
Adult Level – 3 x CC's, 4 x Res CC's, Gp1 x 1, Best of Breed x 3, BOS x 5, Res BOS x 10
International Shows EU - Reserve Best in Show x1, BIS 3rd, Gp1 x 5, Gp3 x 2, Multiple Group Winner, Best of Breed x 13, Best of Sex x 16, Res Best Dog x 12, Green Stars/CAC's x 10, Res Green Stars x 10, CACIB X 3, Res CACIB x 2, CAC's x 15
MOYA 2009 – 2009 Top Puppy, 4th Top Dog, & 5th Top Malamute
MOYA 2011 - Top Dog and Top Malamute
Crufts – 2010 SpJr 3rd
Gaining his Stud Book Number and 'Lifetime qualification' for Crufts at only 12 months of age
Call name: Toko
DOB: 2nd December 2008
Sire: AM CH Sno Klassic Ticket To Ride To Hyteton (Imp USA)
Dam: Blaidderia Born To Be Wild ShCM
Breeders: Mr & Mrs Roper (Tokosha)
Colour: Wolf Grey & White
Hip Score: Hips 2/5 =total 5 (1/7/10)
Eye Test: Unaffected (03/04/12)
My first cherished home-bred boy the largest of the litter who attracted many nicknames whilst being only a puppy. Tonka toy being one name from which we decided to call him
Toko (meaning lion) linked to my kennel name Tokosha. As a pup he had a real naughty outlook on life but a kind and gentle character always the first to dive under the sideboard to hide from the other pups.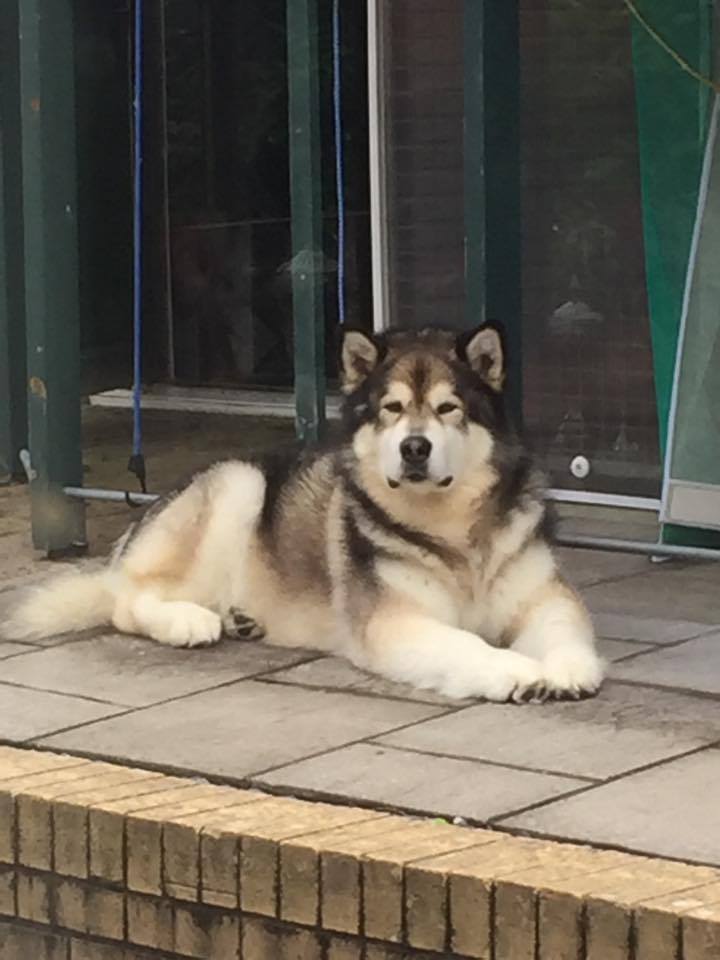 A handsome boy and always that forever young innocent face, definitely melting the hearts of many the judges. He loves to charge around the paddock and will play all day. Taking the shows by storm in 2009 he achieved many accolades the best being Top Malamute Puppy 2009 in the UK Malamute of the Year Awards.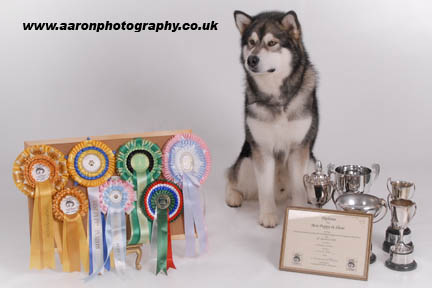 Photo by Paul Williams - Aaronphotography
Toko exceeded our expectations and became a well know dog in the show world both here, Ireland and in Europe. He is now retired and enjoying his later years, enjoying his walks and sleeping the day away.