Jade Of Feldburg
Jade

Call name: Jade
Breed: Rottweiler
DOB: 24/12/1984 - January 1995
Sire: Jagen Blue Adante
Dam: Vernberg Wise Acushla
Breeders: Mrs A.M.Evans
Colour: Black and Tan
Jade was our first dog in our home both Terry and myself had always had dogs in our lives. So In January 1985 we started our search for a breed which would suit both of us. Interestingly when we were looking at Rottweiler's we visited a local policeman who had a number of dogs and were impressed with this breed and their temperament.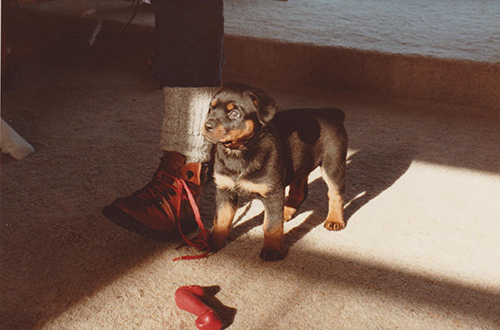 Jade was fabulous and had a loving temperament. She was the first dog I took to any obedience class, making many new dog friends and learning a great deal together. It was during this time that sadly this great breed first had bad publicity. All our neighbours and friends loved Jade and she always made everyone feel welcome in our home, never being too boisterous always her gentle self. Whenever she went into kennels when we were on our holiday on our return on the first evening, she would lie on our couch and huddle up close to us, so pleased we were all together again.
Often in the middle of the night she would visit us upstairs and fall asleep with her nose tight up against the skirting board and would promptly snore until we pulled her back (still fast asleep). The beach was her great love and she would run for the nearest still pool and wallow like a big huge slug back and forth.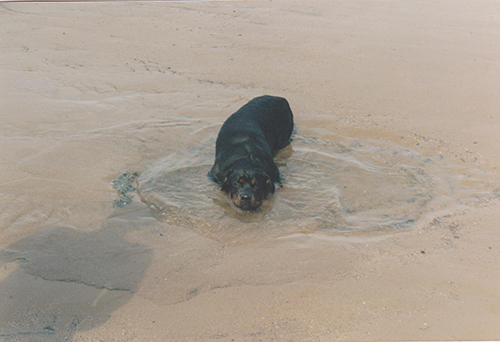 Sadly as most large dogs she was put to sleep due to her arthritis being so bad. She was our first large breed and we loved her and missed her greatly.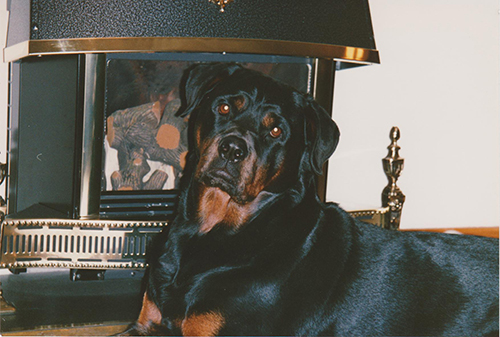 Jade you left a void in our lives so much so that we had to fill it quickly with another. But you are always in our hearts and thank you for your loyalty and companionship.
We still miss you Jade and shall never forget special you.
Enjoy your forever walks over Rainbow bridge I miss our hugs !!